---
Post
Another semester, another redesign (give it a solid refresh to clear your cache). This one's been brewing for quite some time now, with the notched grid motif coming around a few months ago, along with my discovery of Gotham. It's at once one of my most ambitious and most basic redesigns.
My intention was to create a more personal experience, to better illustrate myself through both the content and its presentation. Words aren't the only, or even the best, way of portraying my thoughts anymore. So, alongside new posts you'll find links to photographs I've taken and relevant songs I'm listening to. Visually, the clean lines and sharp (stiff, even) grid are me – I'm a neat freak.
I decided to hide away the sidebar after studying some ClickTales and even a few user surveys (thanks guys!). The sidebar is secondary content, supplementary information about me and what I'm doing, so it seems justifiable to push it aside to make room for the main content, while keeping it at your fingertips should you want to check on what I'm doing.
The site should work properly in all major browsers, although I am aware of a few remaining bugs and quirks. The redesign is so complex that I realized I would never get it live if I tried to squash every bug before launching.
There are also some improvements to the comment system which I'm sad to say I've neglected in the past few redesigns despite their key importance to the success of the site. In addition to giving you more room to type your responses, I've installed a plugin which allows you to quote other commenters by selecting the text you'd like to cite and clicking the "Quote" icon in the corresponding comment label.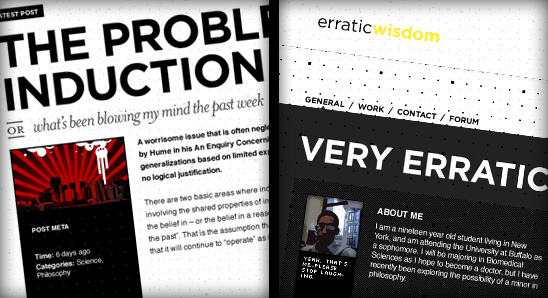 The old version is archived here, and you can check out semi-complete archives of every redesign here.
Otherwise, peruse the site, check out the AJAX complements of jQuery and leave any feedback in the comments.
Update: I've attempted to correct some minor rendering issues with Safari. Please let me know if you encounter any other weirdness.
---
---