---
Latest Post
I threw design|snips into my portfolio section the day I launched it, but have yet to officially let you in on my newest website.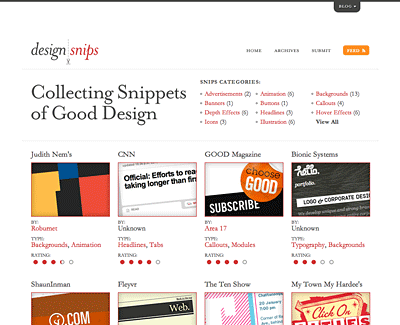 design|snips has a simple purpose, collecting snippets of good design. I've amassed a library of design bookmarks, but for each site, I was usually only interested in a single element (maybe a button, callout module, or headline style). design|snips collects and categorizes these elements to make it easier for you to find your inspiration when you're starting a new interface.
The site has been doing really great thanks to some links from: UnmatchedStyle, LogoPond, delicious/popular, shauninman.com, welovetxp.com, and more. The site is already at 450 subscribers!
---
---