---
Post
I came across an interesting presentation on digg (and surprisingly, it wasn't a kitten with horrifying spelling/grammar) recently that compared – albeit often fallaciously – our existence and universe to a computer program.
The more prominent arguments for the existence of God, at least in the realm of philosophy of religion, posit the existence of some greater being, but it is often unclear what attributes such a being would have. Cosmological or "first-cause" arguments identify God with the supposedly necessary spark at the beginning of the universe, but it is still a leap to assign it omni-everything (omnipotent, omniscient, all-good) attributes. Similar leaps occur in other arguments (ontological, teleological, etc), where the vagueness of what this God is allow the computer analogy to take hold.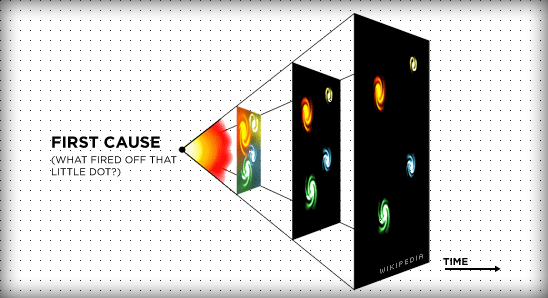 What does this all mean? If at the helm of our universe is not the traditional God, and we can only know that something exists (if that), then we have something closer to the computer program analogy where there is only a creator and its product. So, let's push that analogy.
Cosmic Geek
At this stage, the creator does not of necessity have the omni-everything attributes of the traditional conception of God. In fact, it need not even be all-powerful, just powerful enough to provide the first cause (following the cosmological argument). Therefore, the creator's motivations may not include attending to our universe's condition (these cosmic geeks are notoriously irresponsible). Our universe could be one of millions of instances, or just a prototype – a flawed beta abandoned for the next revision.
Natural Laws
If our universe is analogous to a computer program, then it was likely designed according to a blueprint or archetype and is subject to laws and rules. Once a program is run or instantiated, however, it exists independently of its source though it continues to be bound by the laws according to which it was created. Similarly, if our universe is comparable to a computer program, then it's subject to natural laws and proceeds according to a predetermined causal chain. Nothing that happens within a computer program is causally inexplicable, and while our universe may be more complex than Mail.app, it would be in principle possible to deduce that a particular event will occur if we know all of the antecedent conditions and laws.
Reaching the Creator
Is it possible for us, as objects within this application, to communicate with the creator? Here, some of the analogies seem to falter (and collapse altogether in the presentation). In a typical program, instantiated objects are necessarily restricted to accessing things in their "universe". Direct contact is therefore not possible, however, the creator can incorporate relative metadata which could be accessible by objects in the program.
Our universe differs from a typical program in that it includes objects (such as ourselves) that are self-aware, and while we've decided that our universe is deterministic, we can still allow for a soft view where if we had chosen to, we could have done otherwise. So, we can choose to access this "metadata", and since our analogy is particularly weak at this point, it doesn't seem entirely impossible for us to reach beyond our universe and attempt to contact the creator.
What does the Universe Run On?
In a program (simplifying things a tad), variables and objects occupy bits of memory and the application runs or is interpreted by some kind of processor. In our universe, objects extend in space, but what exactly "powers" everything? This one gets quite difficult as we don't typically conceive of our universe as dependent on some other thing, and any guesses here would be purely speculative.
Conclusion
Well, this has been a fun little thought experiment (and it's just that, an experiment, these are not my views nor am I advocating what I've said as a belief system, blah blah blah), if you have more ideas for stretching out the analogy, leave them in the comments!
If you like it, digg it
---
---