---
Post
I've spent a couple weeks now with my new Santa Rosa / LED backlit MacBook Pro and it's my favorite computer to date. I decided to make the move from my "trusty" MacBook (I had a few problems) after its shortcomings grew more apparent with my expanding workload. The MacBook was great for web development, Photoshopping, or testing with virtual machines. Doing all of these things simultaneously, however, was a different story. Even with the 2GB memory upgrade, I found myself constantly pausing virtual machines to crop out an image in photoshop or exiting photoshop to free up the memory for a virtual machine. I also found myself doing more and more video editing and other graphically-intensive tasks that the MacBook's integrated graphics really struggled with.
The new MacBook Pro has no such limitations. I chose the high-end configuration which includes a slightly faster Core 2 Duo processor at 2.4 GHz and a dedicated video card with 256MB of RAM. I also bought 4GB's of third-party RAM (Apple's prices seemed excessive to say the least) to seal the deal.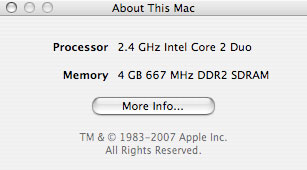 On Flickr
The system's performance is truly shocking. A cold launch of Photoshop CS3 takes less than ten seconds and relaunching it in the same session takes just two. Many other applications are now "one-bouncers" (meaning they take less than one bounce of the dock to be up and running) including Safari, Firefox, Mail, Adium, iTunes, and Pages.
Even the most intensive multitasking is no longer a problem. I can run multiple virtual machines, Photoshop, Flash, and more simultaneously with room to spare.
My favorite part about the MacBook Pro so far? The screen of course. Apple didn't play up the advantages of the LED backlight nearly enough. Aside from the obvious environmental benefits, the screen is also quite a bit brighter than both my MacBook and an older, non-LED backlit MacBook Pro version I compared it against. As I write this, I have three more notches of brightness remaining and I'm perfectly comfortable (I'd rate it at about equivalent to the maximum brightness on my MacBook). There's actually a bit of discomfort as my eyes adjust when I bump it up to full brightness…it really is that bright.
The MacBook Pro is also a tried and tested machine originally release in early 2006 meaning I don't expect the same kind of hardware failures resulting from my early adoption of the MacBook.
The verdict: so far, so very, very good.
---
---